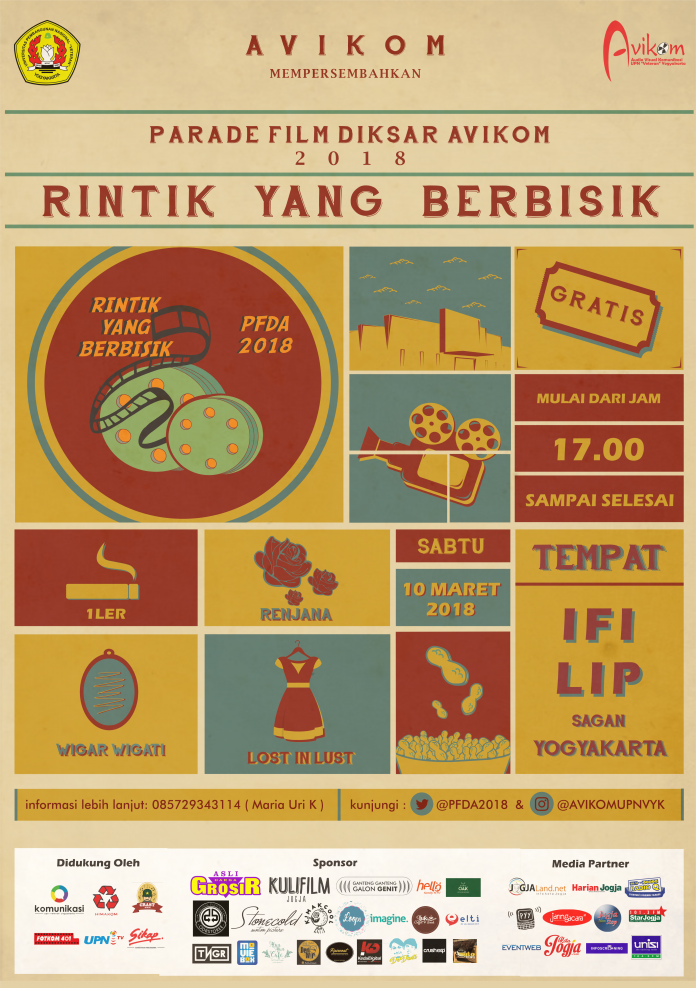 "Mohon perhatian anda, Pintu Teater Rintik yang Berbisik akan segera dimulai. Bagi anda yang telah memiliki karcis dipersilakan segera memasuki ruang Teater"
AVIKOM UPN VETERAN Yogyakarta mempersembahkan
PARADE FILM DIKSAR AVIKOM 2018
"RINTIK YANG BERBISIK"
YUK CATAT TANGGAL, TEMPAT DAN WAKTUNYA YA! 
📆10 MARET 2018
📍IFI-LIP Jalan Sagan No. 3 Yogyakarta
⏰17.00-Selesai
Buat kalian yang bingung malam minggunya mau kemana mending dateng ke PFDA 2018 yaak🎬
Terbuka untuk umum dan tidak dipungut biaya!!
Mark Your Calendar! 📌
Don't miss it, because it's Free and Full of Snack !!
Gak cuman screening film aja lurr, ada diskusi film dan pastinya bakal banyak doorprize yang menariquee!
Jangan sampai kelewatan yaaa, pantengin terus nih:
Ig: @avikomupnvyk & Twitter @PFDA2018
Contact Person :
Uri : Mariakristina94@gmail.com / 085729343114
SEE YOU THERE!